Subscribe to Broadband Buzz RSS News Feed
Broadband Buzz Blog
Become a regular reader of the Broadband Buzz blog. Let MoBroadbandNow help you to stay informed about the MoBroadbandNow initiative and the latest developments with Missouri's broadband infrastructure.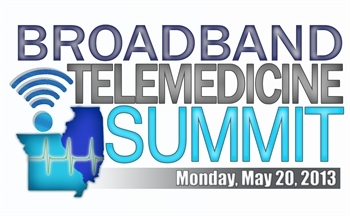 CLICK HERE TO REGISTER
Hosted by: Broadband Illinois, www.broadbandillinois.org and MoBroadbandNow, www.mobroadbandnow.com
Moderator and Presenter:  Ron Emerson, Global Director of Healthcare, Polycom
Conference Speakers Include: 
Illinois Governor Pat Quinn and Missouri Governor Jay Nixon are scheduled to attend
Curtis Lowery, MD, Angels Network in Arkansas – KEYNOTE SPEAKER
Jon Linkous, President and Chief Executive Officer, American Telemedicine Association
Ed Simcox, Director, AT&T ForHealth Solutions and Telehealth Strategy
Matthew Wenzel, Chief Executive Officer, Headrick Medical Center, St. Luke's Health System
Thomas Hale, MD, Executive Medical Director, Mercy Telehealth Services
 Kathy Chorba, Executive Director, California Telehealth Network
Rachel Mutrux, Executive Director, Missouri Telehealth Network
 Pat Schou, Executive Director, Illinois Critical Access Hospital Network
Live telemedicine presentations and demonstrations from Microsoft, InTouch and others.