Broadband Telemedicine Summit
The full-day event features interactive panel discussions on healthcare needs, rural issues, policy updates, electronic health information systems and more. The summit will take place on Monday, May 20, 2013 in the Wool Ballroom of Busch Student Center in St. Louis, Missouri. Find more information about the summit.
RHBI Grant Programs
Rural Hospital Broadband Connection Grant Round 2 Winners Announced.
Find out who the winners are...
2012 Project Tracking
MoBroadbandNow tracks the progress of broadband infrastructure projects on a quarterly basis and publishes relevant information. View the report.
Test your Speed
Take the MoBroadbandNow speed test to find out what your actual connection speeds are. Test your speed now!
Broadband Buzz
Every six months, MoBroadbandNow publishes new speed and service maps based on data collected from over 110 participating Internet Service Providers across the state.  Maps are published for both the state and regional levels.  Service maps show the number of providers serving an area in shades of blue (darker illustrates more providers, while lighter illustrates fewer), while high speed maps show where service is available at speeds of greater than 3mpbs download/1.5mpbs upload (blue), less than 3mpbs download/1.5mbps upload (yellow) and where speed data is unavailable (red).  The maps include data from both wired and wireless providers.
MoBroadbandNow's mapping efforts also include an Interactive Mapping tool, which allows you to enter your address and identify providers in your area, as well as to add layers, including service availability and technology type.
To learn more about MoBroadbandNow's mapping and data collection or, if you are an ISP that is not currently participating, to get involved, visit our FAQ page.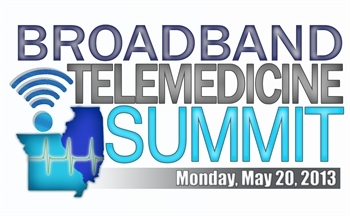 CLICK HERE TO REGISTER
Hosted by: Broadband Illinois, www.broadbandillinois.org and MoBroadbandNow, www.mobroadbandnow.com
Moderator and Presenter:  Ron Emerson, Global Director of Healthcare, Polycom
Conference Speakers Include: 
Illinois Governor Pat Quinn and Missouri Governor Jay Nixon are scheduled to attend
Curtis Lowery, MD, Angels Network in Arkansas – KEYNOTE SPEAKER
Jon Linkous, President and Chief Executive Officer, American Telemedicine Association
Ed Simcox, Director, AT&T ForHealth Solutions and Telehealth Strategy
Matthew Wenzel, Chief Executive Officer, Headrick Medical Center, St. Luke's Health System
Thomas Hale, MD, Executive Medical Director, Mercy Telehealth Services
 Kathy Chorba, Executive Director, California Telehealth Network
Rachel Mutrux, Executive Director, Missouri Telehealth Network
 Pat Schou, Executive Director, Illinois Critical Access Hospital Network
Live telemedicine presentations and demonstrations from Microsoft, InTouch and others.
USDA Rural Development's Community Connect Grant program is designed to help connect the most underserved rural communities in the country.  To help better meet this goal, USDA has announced new rules for the program, which include allowing areas that are not census designated places or defined in a commercial atlas (often the most rural) to apply for funding.  Other changes include:
A simplified application process
More flexibility in resources and in-kind contributions that can be used to meet the match requirement
Priority in USDA application evaluation to persistent poverty counties, communities experiencing population loss, and the most rural areas of the country.
To learn more about Community Connect and the new program rules, click here.
Featured Videos
Ralls County: Missouri's First Broadband Project
MoBroadbandNow grants help hospitals improve patient care